Please review this brief summary explaining each feature and where it can be located.
Please select on the left the gear icon, and this will display your settings.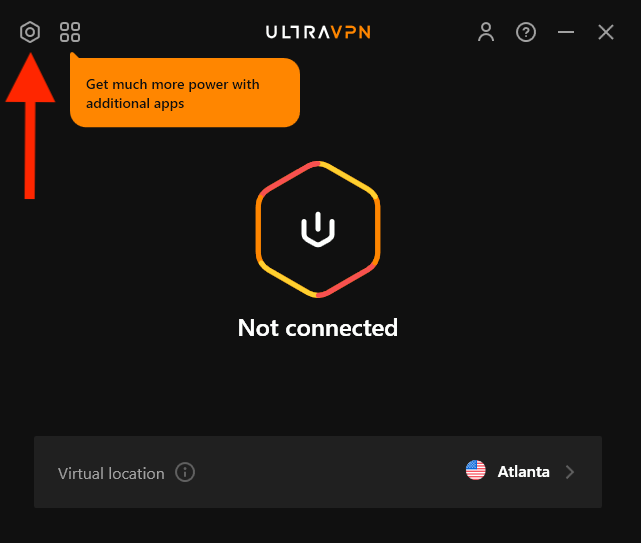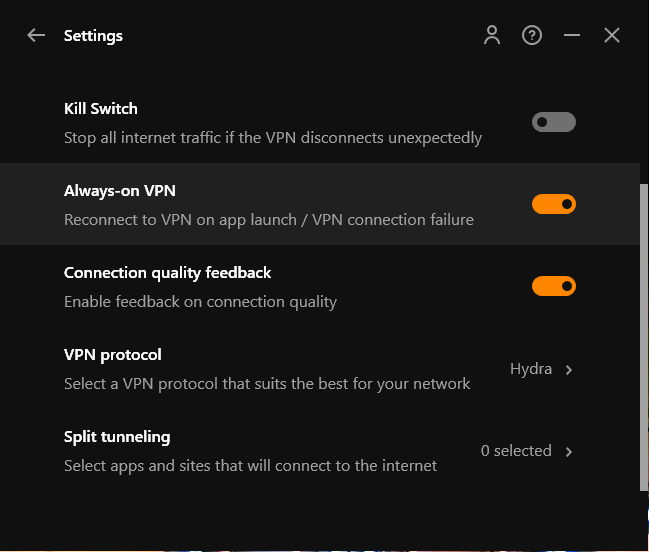 You will see options such as those mentioned in the above screenshot. Now let's go through each one and understand what they mean.
Prevent IP Leak
Allowing this will prevent your IP from being detected while you are connected to the VPN. Once connected to UltraVPN your public IP has already changed, but this feature can prevent any sites, cache, or cookies from leaking your IP.
Kill Switch
If UltraVPN suddenly disconnects, enabling this feature will stop the flow of data, protecting you by not allowing the internet traffic to run in the background once the VPN disconnects.
Connection Quality Feedback
This option if toggled will appear after you successfully connected and disconnected the VPN. It is a pop up window asking for feedback on the quality of your connection status. Was it fast? Was it slow? Was it 5 or 4 stars? Please let us know with the feedback option.
Split-Tunneling
UltraVPN supports split tunneling via a feature it calls "Split-Tunneling". It enables you to exclude certain apps and websites from the VPN tunnel. You simply need to enable the feature and add the apps or websites you want to go through your regular ISP connection. This can help with email issues, and access issues to certain sites and apps.
VPN Protocol
If you are experiencing connection issues or in some rare cases access issues that cannot be fixed, we recommend switching to different protocols to identify what protocol best works for your network. You may find success when switching protocols. We always recommend Hydra as it is our internally developed protocol with super-fast connection speeds.
Please feel free to contact us via Chat or email if you have any more questions or concerns.